Orange & Clove Body Butter | Whipped Body Butter
Regular price
Sale price
$20.00 USD
Unit price
per
Sale
Sold out
On Annual Pause - due to the heat, we cannot guarantee these body butters will ship without melting. We will open them back up in fall!

Bright citrus notes of fresh orange, blended with spicy notes of cloves, it's a one of a kind scent to apply any time of day. Scented with pure therapeutic essential oils of Orange and Clove, the body butter is colored a bright yellow naturally from the orange essential oil. This grounding cream is just what you need to start your day or to help you relax after a long day of work.

Scent Strength: ⭐⭐⭐⭐

Orange essential oils is amazing for:
Relieving stress, anxiety and depression symptoms because orange is so uplifting

Boosting your mood and helping you get the day going

A natural anti-microbial
Clove essential oil:
A strong anti-microbial, perfect for fighting acne
Has high levels of anti-inflammatory, helping to decrease swelling or irritated skin
Reduces sagginess of the skin
Textures of this body cream:
Thicker than a whipped body butter
Creamy and spreadable like real butter
Holds its texture as you scoop some with your fingers
Melts beautifully as you apply
Not greasy after application
Love this orange and clove scent? Try our Orange and Clove Goat Milk Soap!


Our luxury blend was created by first researching about different noncomedogenic (non pore clogging) butters that are not commonly used on the market today. As a small business, we are able to seek out these hidden gems, blend them with a team of skincare heroes including Jojoba and Argan oil, and feed your skin with this luxurious and unique body cream.
Be sure to use a little and spread it on your body as a little really goes a long way with this product! 
Net contents by volume: 4oz
Ingredients: 
Kokum butter, oils of Jojoba, Argan, Avocado, Meadowfoam Seed, Kukui Nut oil, Murumuru butter, orange and clove essential oil, vitamin E
Shelf life: 1 year after date of purchase
Check out our FAQs below for more details on usage and storage!

Our handcrafted skincare products are always paraben, phthalate, toxic, cruelty free 



Share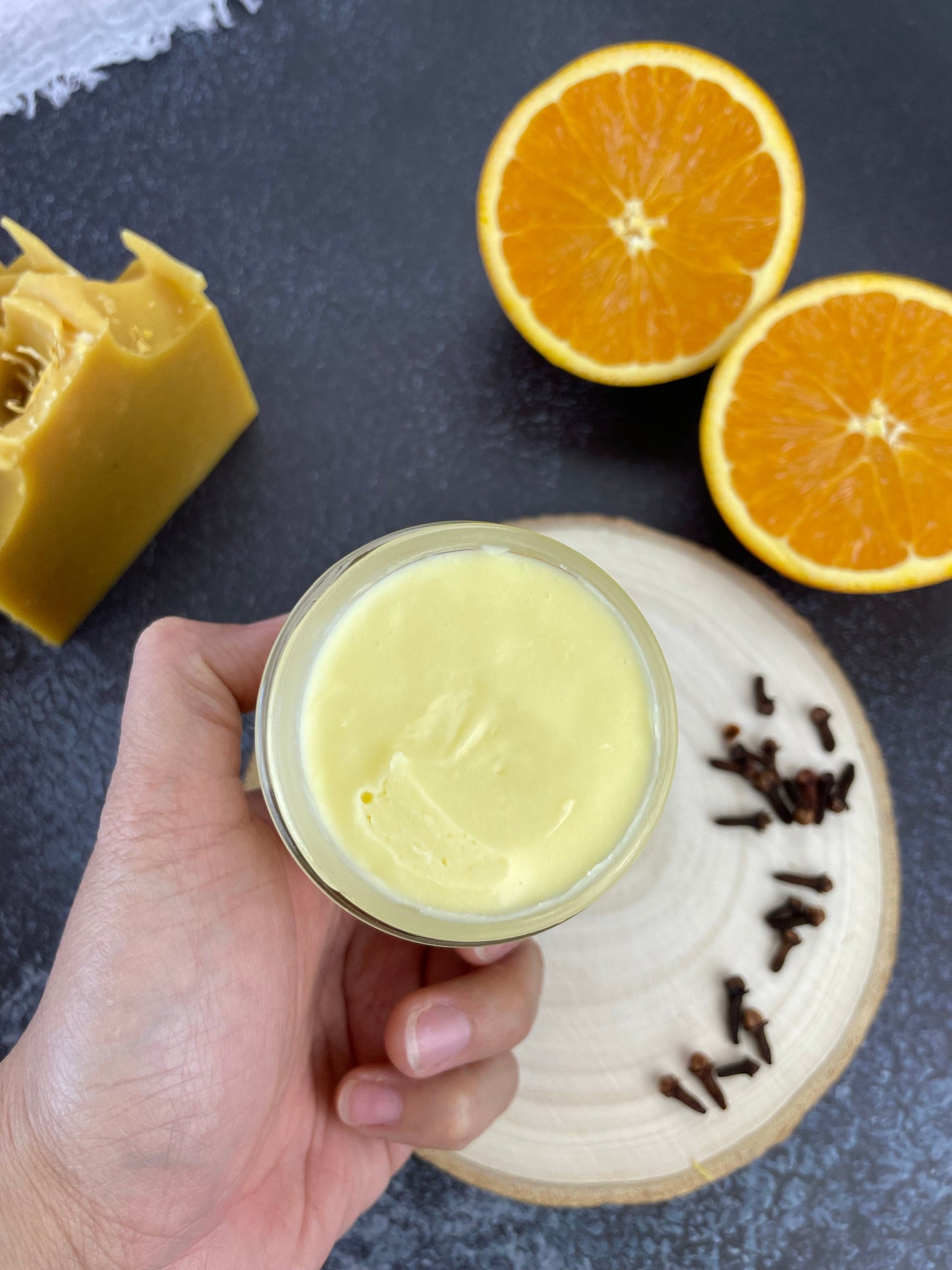 Body Butter FAQs
How to Use
Directions: Our body butters are whipped oils and butters, it is a concentrated product that is not watered down so a little goes a long way.
Using clean hands, scoop a dollop of luxurious cream onto your skin and spread it out onto your skin.
It's best used after a warm shower as it will start to absorb into the skin. You will feel silky smooth and not greasy.

Are there preservatives in the Whipped Body Butters?
Our products are all hand crafted and are not made to store on shelves for years. We do not use any preservatives in our products.

What is the expiration date on the Whipped Body Butters?
Our whipped body butters should be opened within 6 months of purchase and used within the next 6 months.

Body Butter Care
Once opened, the product become exposed to dirt and microorganisms. It is best to use clean hands when applying. Body butters are also sensitive to heat, keep in a cool, dry place.