Orange and Clove Goat's Milk Soap
Regular price
Sale price
$8.50 USD
Unit price
per
Sale
Sold out
A classic combination of citrusy orange with spicy clove, this blend of essential oils is the go to for an amazing shower experience. Orange and clove essential oils have so many benefits including:

Orange Essential oil:
Reduces symptoms of anxiety and depression as this essential oil is uplifting
Has anti-microbial properties
Helps decrease facial blemishes
Clove Essential oil benefits:
High levels of anti-inflammatory, helping to decrease swelling or irritated skin

Anti-microbial, anti-bacterial which is great for fighting acne
Reduces sagginess of skin 
Helps prevent appearance of fine lines and wrinkles
Goat milk soap benefits:
AHAs help naturally exfoliate your skin
Promotes soft and supple skin 
Works against the effect of aging due to the retinoids that regulate skin cells

Here's a quick clip on how this batch of soap is made:
Ingredients: Saponified: Olive oil, coconut oil, fresh goat milk, cocoa butter, shea butter, castor oil, sunflower oil, essential oil of orange and clove, marigold petals

Love this orange and clove scent combination? Try our luscious body butter in orange and clove here! 


For more information on all the benefits of goat milk soaps, come check out the full article on goat milk soap benefits, here!
Listing is for 1 bar of soap, wrapped in a paper cigar band. Boxes are exclusive to retail stores
Category of product: Staple (Usually always stocked)
Specific dimensions: 3.5" x 3" x 1"
Weight approx 4oz +
Each bar of soap will last approx. 2-3 weeks depending on personal usage and lather power. Our soaps are cured a minimum of 6 to 8 weeks to produce a harder, longer lasting bar for you! 
Every goat's milk soap and handmade natural skincare product listed is 100% handcrafted, trimmed and labelled 
Share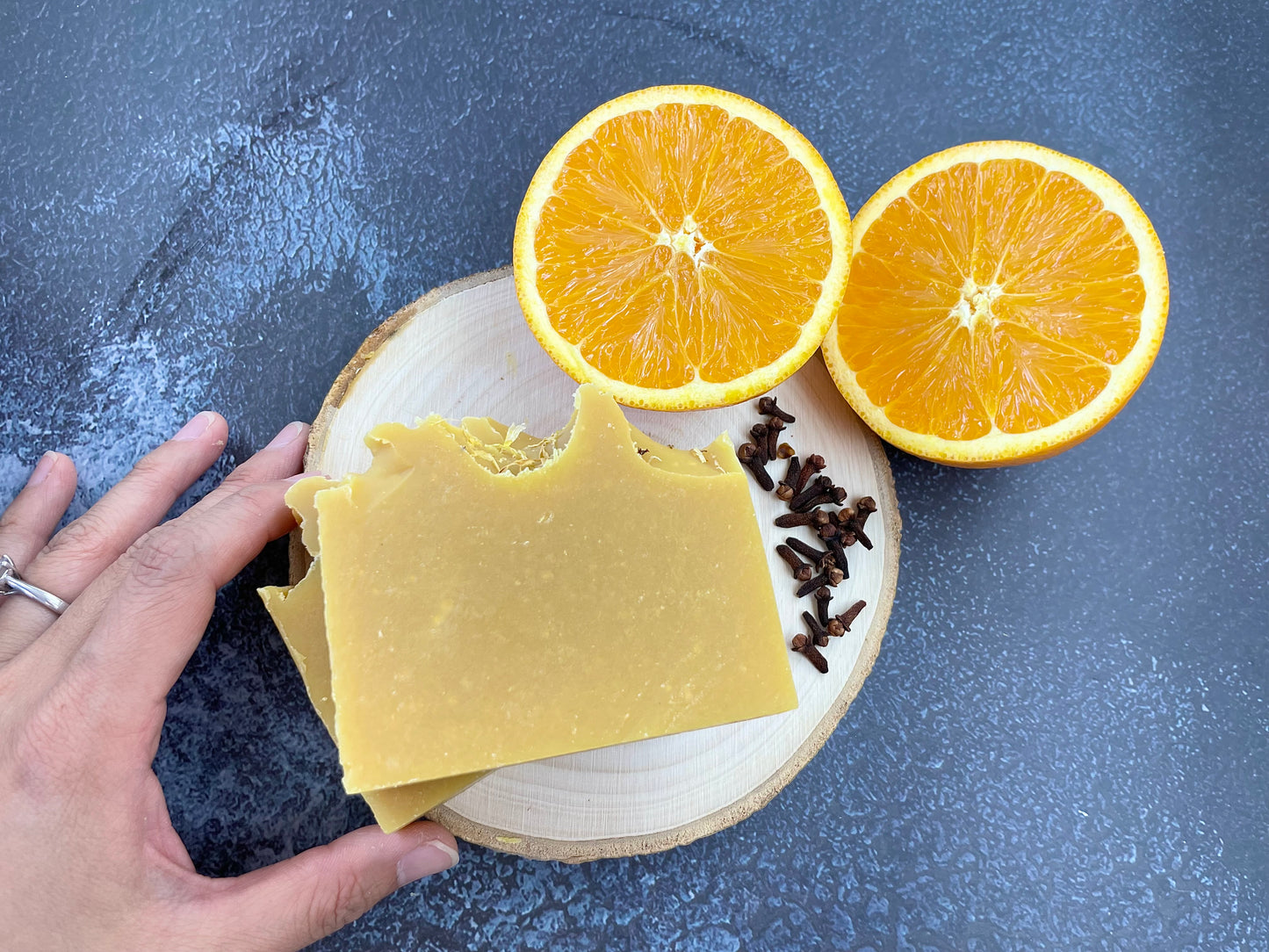 Excellent Buy
I purchased this to pair with my orange & clove body oil. It smells great, although I prefer a bit more clove. I love the creamy lather and how it softens my skin. Buying a good, natural soap is worth every penny. This was my first purchase, and I was delighted.
LOVE the scent: Orange & Clove
I really like how it lathers and you can smell the wonderful orange & clove scent..
I like the feel of it on my hands.
Thank you for such a great product!!