All-Natural Oatmeal and Honey Goat Milk Soap - Perfect for Sensitive Skin!
Regular price
Sale price
$6.00 USD
Unit price
per
Sale
Sold out

Are you tired of dealing with dry, itchy, or irritated skin? Our Oatmeal & Honey Goat Milk Soap can help you get from problematic patchy skin to supple, soft skin with the power of our Fresh Nigerian Dwarf Goat Milk. 

Why you'll love this bar

Made with the highest fat content Nigerian Dwarf Goat Milk from our homestead and quality clean ingredients, it's gentle on your skin and cleanses without drying.
Great for all skin types including sensitive baby's skin because it is kept unscented and cleanses gently
It's made with skin smoothing colloidal oatmeal and luscious raw honey.
It includes cocoa butter that forms a protective barrier on your skin to prevent moisture loss, while goat milk provides vitamins and minerals for healthy skin.
Colloidal oatmeal has anti-inflammatory properties and helps keep your skin feeling smooth to the touch.
Our soap can help with some of the most common skin issues people in America have, including dryness, irritation, and acne.

We tried it all, this is the only soap that helped our own son's eczema

We understand that trying goat milk soap products can be daunting, especially if you have skin issues like eczema and wonder if it will work for you. We started where you were too.

Ever since he was a toddler, our oldest son suffered from irritated eczema skin where he'd have skin rashes and bumps appear on a regular bases. They were causing him to scratch excessively and was very difficult to deal with. From Doctor's recommendations we've tried eczema creams and other goat milk soap products but none of them relieved our son's bumpy, dry, itchy eczema.

We created our own simple yet effective goat milk soap to bring relief to his itchy/dry skin.

Our goat milk soap is a proven solution for relieving dry and itchy skin. We understand the struggle of living in a dry environment and the importance of maintaining natural skin oils while cleansing. That's why we created a simple yet effective bar, formulated to provide the necessary moisturization for your skin. Through our own research and experience, we've found that this bar has been highly effective in treating eczema, helping our son achieve clear, healthy skin.

Our Oatmeal and Honey Goat Milk Soap is a must-try for anyone struggling with these common skin concerns like our son. Here's why:
The high-fat content in our Nigerian Dwarf goat milk helps to relieve, moisturize and nourish the skin, leaving it conditioned and nourished.
Colloidal oatmeal's anti-inflammatory properties can help to reduce redness and irritation, making it ideal for those with eczema or psoriasis.
Our soap's gentle cleansing properties can help to unclog pores, gently remove dirt and improve the overall appearance of acne-prone skin.
Star ingredients:
Cocoa butter is high in fatty acids and the fat in cocoa butter helps form a protective barrier on your skin to prevent moisture loss
Fresh Goat Milk - 

Loaded with vitamins and minerals to promote healthy skin.

Colloidal oatmeal has anti-inflammatory properties and helps keep your skin feeling smooth to the touch.
Helpful articles to learn more about goat milk soap and colloidal oatmeal benefits:

Ingredients:
Saponified: Olea Europaea (Olive) Fruit Oil, Fresh Goat's Milk, Cocos Nucifera (Coconut) Oil, Theobroma Cacao (Cocoa) Seed Butter, Ricinus Communis (Castor) Seed Oil, Raw Honey, Organic Avena Sativa (Oat) Kernel Flour, Organic Avena Sativa (Whole Rolled Oats)

Listing is for 1 bar of soap, wrapped in a paper cigar band. While boxes are exclusive to retail stores, we ensure that our soaps are well-packaged for delivery.
How big is a bar of soap?

Approximate dimensions of soap is 3.5" x 3" x 1" and weighs approximately 4oz+. Each bar of soap will last for about 2-3 weeks, depending on personal usage and lather power.
How long will a bar last?

Our soaps are handcrafted and cured for a minimum of 6 to 8 weeks to produce a harder, longer-lasting bar that will give you the most out of your investment. 
Share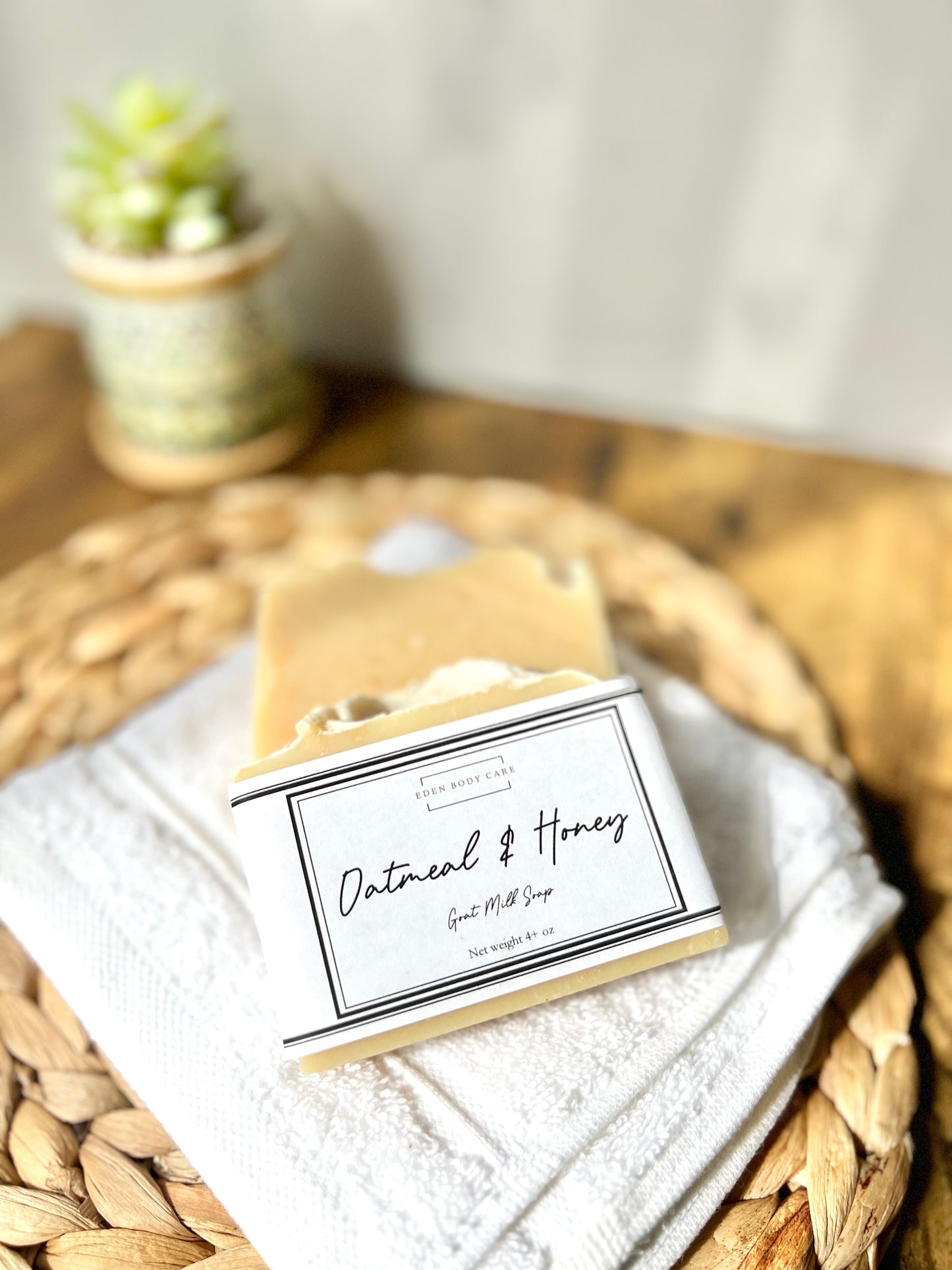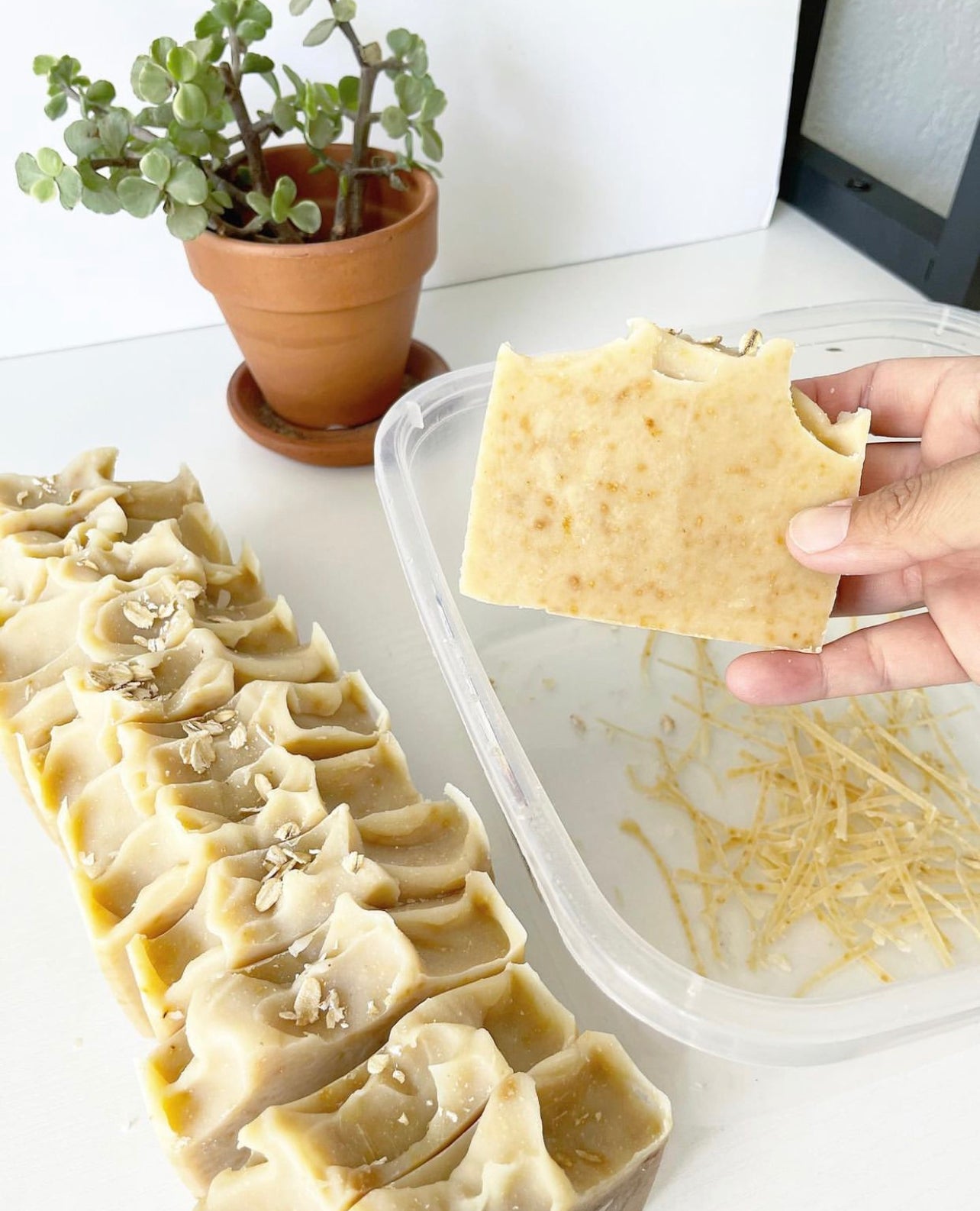 Great soap
My husband who is highly sensitive to soaps lived your product so far so good ! You company was a pleasure to deal with you communicate with your customers immediately . *****
Love this product
Not only do I love the soaps because of the smooth lather and fragrances but the wonders it makes. Recently got a sunburn at the beach that got itchy and painful. As soon as I got home and used my goat milk soap it relieved my sunburn symptoms immediately. Love Eden Body Care products!
5 stars love this soap! Makes my skin hold moisture and being in the desert that makes a big difference
I love this soap!!
It leaves my dry skin feeling soft and loved. I love the scent. It isn't overpowering. I have tried many different soaps body washes. I am happy with yours.