Woodberry Goat Milk Soap
Regular price
$8.00 USD
Sale price
$8.00 USD
Unit price
per
Sale
Sold out
Meet Our Woodberry Goat Milk Soap! Imagine the crisp feeling of a forest walk combined with the tangy kick of fresh cranberries. It's like bringing the best of the outdoors, right into your shower.
Here's why you might just get hooked on this bar:
Feels Like The Woods: When you use it, you'll be reminded of those calming walks in the forest. It's like a mini-escape every time you lather up.

Cranberry Zing: You know that tart and tangy taste of cranberries? We packed that feeling into this soap. It's refreshing and a little bit zesty - a great pick-me-up!

Hints of Green: There's a gentle touch of green scents in there, balancing out the bold cranberry. Think of it as a stroll through a forest clearing, where you pick up hints of the greenery around.

A Mix That Works: It's bright from the berries but also deep and earthy from the woods. A blend that's just right, if we do say so ourselves!

Not Just A Soap: It's an experience. Using this is like a mini-trip to nature, leaving you feeling refreshed and ready for the day (or night) ahead.
So, if you're into that fresh forest feel with a splash of cranberry zing, Woodberry Goat Milk Soap might be your new favorite thing. Give it a try and let nature do its thing!
__________________________________________________________________________________________
This listing is for 1 bar - Each bar of our handmade soap weighs approximately 4.0oz+ and measures 3.5" x 3" x 1". The soap is cured for 6 to 8 weeks to produce a harder, longer-lasting bar for you. Our goat milk soap is 100% handcrafted, trimmed, and labeled, and is available in very limited stock, making it a truly unique product.

Ingredients: Saponified Olive oil, coconut oil, fresh goat milk, cocoa butter, shea butter, castor oil, sunflower oil, fragrance oil, mica for color

Our goat milk soap is skin safe and comes wrapped in a paper cigar band, making it easy to gift or use for personal enjoyment. The soap is long-lasting and will provide 2-3 weeks of usage depending on personal lather power and usage.
Indulge in the delicious fragrance and luxurious lather of our Goat Milk Soap today and experience the ultimate in pampering and skincare.
Share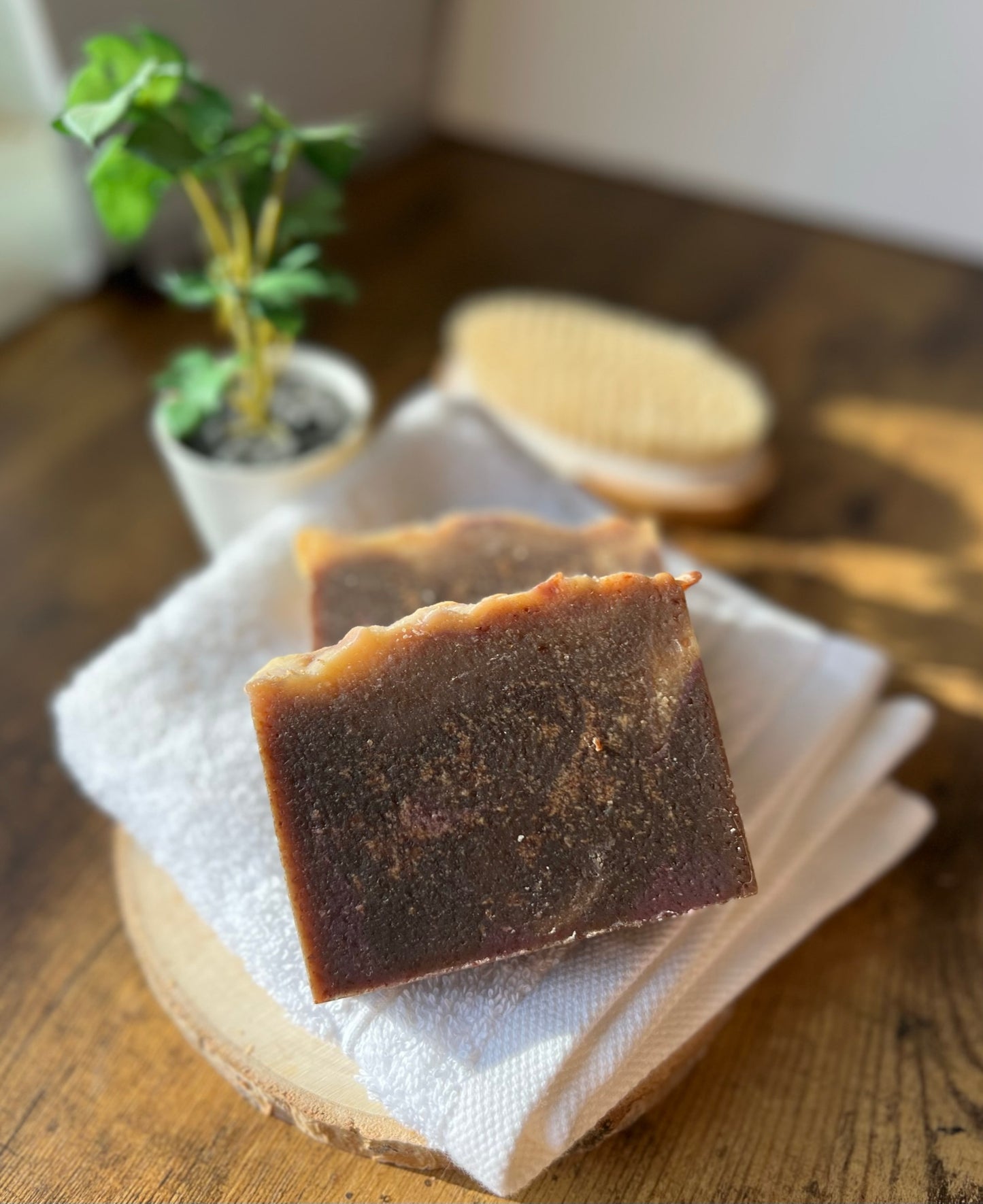 Love It!
The best thing about this soap is that it is very creamy. I love the cherry scent mixed with the almond, so it is a good spring scent but can also be used for fall because it's comforting. I am a soap collector and have not found such unique scent combinations anywhere else. I'm looking forward to trying more EBC soaps and products.