The Classic - Unscented Goat Milk Soap
Regular price
Sale price
$6.00 USD
Unit price
per
Sale
Sold out
Our classic unscented goat milk soap is all you need in a good bar of soap without the added fragrances, made with fresh goat's milk and skin-nourishing oils and butters, this soap is great for sensitive/delicate skin!

Goat Milk Soap Benefits: Goat milk is full of AHAs to naturally exfoliate your skin naturally, vitamin A that promotes soft and supple skin, vitamin B2 that aids in improving signs of inflammation, and vitamin B1 to protect your skin from free radicals.

Ingredients: Olive oil, coconut oil, farm fresh goat's milk, sodium hydroxide, castor oil, cocoa butter, Shea butter, sunflower oil

To read the full article on the benefits of goat milk soap, please check out the link here.

Specific dimensions: 3.5" x 3" x 1"
Weight approx 4oz +
Listing is for 1 bar of soap
Each bar of soap will last approx. 2-3 weeks depending on personal usage and lather power. Our soaps are cured a minimum of 6 to 8 weeks to produce a harder, longer lasting bar for you! 
Every product listed is 100% handmade, trimmed and labelled 
Share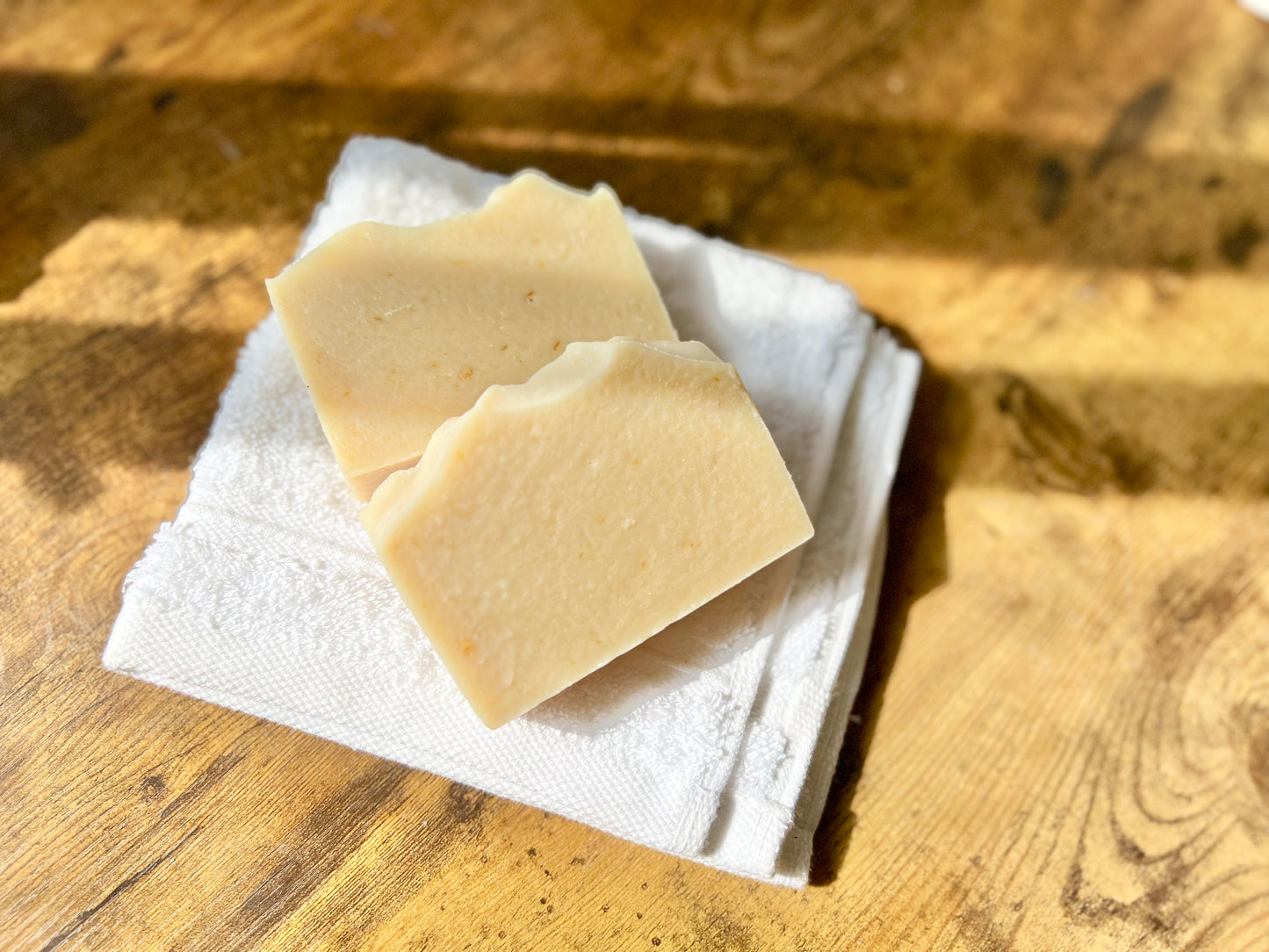 The Classic - Unscented Goat Milk Soap
I love all the soaps you offer but for my face I only use The Classic - Unscented GM Soap which really helps my middle age skin calm and prevents dryness. My final bar is almost gone! I'm hopeful it will be available again soon! :)
Brenda A.
The Classic - Unscented Goat Milk Soap
Skin soothing
Just what I needed for dry winter skin. Great mild soap.
The Perfect Simple Soap!
Such a simple and calming soap! Love using this one for sensitive skin issues. The combo of The Classic and Oatmeal & Honey is a perfect pairing, and love that these two products are kept at a lower price.
Thank you so much for leaving a review Mariko! We are glad you're enjoying this bar and we agree, this bar and the Oatmeal honey is a great pairing.
GOAT Soap
Loved this soap--super hydrating on my skin!
Thank you so much for your review, so glad you enjoy this soap!