Tea Tree Charcoal Goat Milk Soap - Detoxify and Rejuvenate Your Skin with the Power of Nature
Regular price
Sale price
$8.50 USD
Unit price
per
Sale
Sold out

Looking for a solution to oily skin and acne?

Say goodbye to acne and hello to healthy, glowing skin with our Goat Milk Tea Tree Charcoal Soap! This powerful soap combines the acne-fighting properties of tea tree essential oil and activated charcoal with the nourishing benefits of fresh goat milk to provide you with a powerful cleansing experience.

Activated charcoal detoxifies and unclogs pores, reducing inflammation and promoting fresh, healthy skin.
Tea tree essential oil's antibacterial and antifungal properties eliminate harmful microorganisms and prevent skin infections.
Ideal for acne-prone skin, tea tree essential oil's anti-inflammatory and acne-fighting properties soothe and heal the skin.
Activated charcoal is a natural ingredient that has the ability to adsorb impurities and toxins from your skin. Its detoxifying properties help to unclog pores, reduce inflammation, and leave your skin feeling fresh, clean, and healthy.
While tea tree oil and activated charcoal can be powerful ingredients for cleansing and clarifying the skin, they may have a slightly drying effect on some individuals. However, this effect can be mitigated by the moisturizing and nourishing properties of goat milk included in our soap formulation. Additionally, we recommend following up with a body butter if needed after using the soap to keep your skin hydrated and balanced.
How big is a bar of soap?

Each bar of our Tea Tree Charcoal Goat Milk Soap weighs approximately 4oz+ and measures 3.5" x 3" x 1". Our soap is cured for a minimum of 6 to 8 weeks to produce a harder, longer-lasting bar. The listing is for 1 bar of soap, wrapped in a paper cigar band, perfect for personal use or gifting.
How long will a bar last?

Our goat milk soap is a staple product and is usually always stocked, making it a reliable choice for your skincare routine. The soap is long-lasting, providing 2-3 weeks of usage depending on personal lather power and usage.

Ingredients: Saponified: Olive oil, coconut oil, fresh goat milk, cocoa butter, shea butter, castor oil, sunflower oil, essential oil of tea tree, activated charcoal

Listing is for 1 bar of soap, wrapped in a paper cigar band. Boxes are exclusive to retail stores
Category of product: Staple, we will try to keep these in stock as much as possible
Specific dimensions: 3.5" x 3" x 1"
Weight approx 4oz +
Each bar of soap will last approx. 2-3 weeks depending on personal usage and lather power. Our soaps are cured a minimum of 6 to 8 weeks to produce a harder, longer lasting bar for you! 
Every product listed is 100% handmade, trimmed and labelled 
Share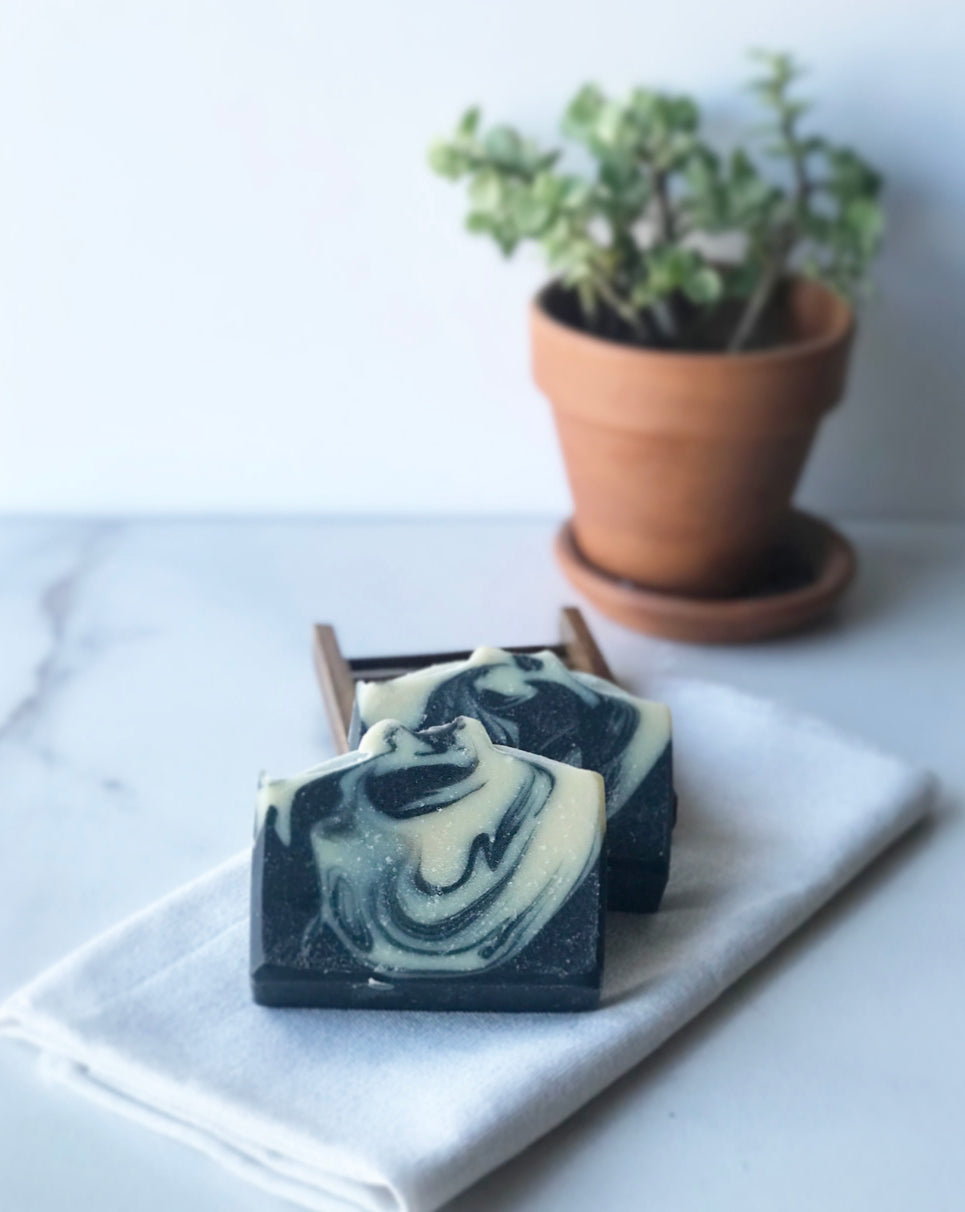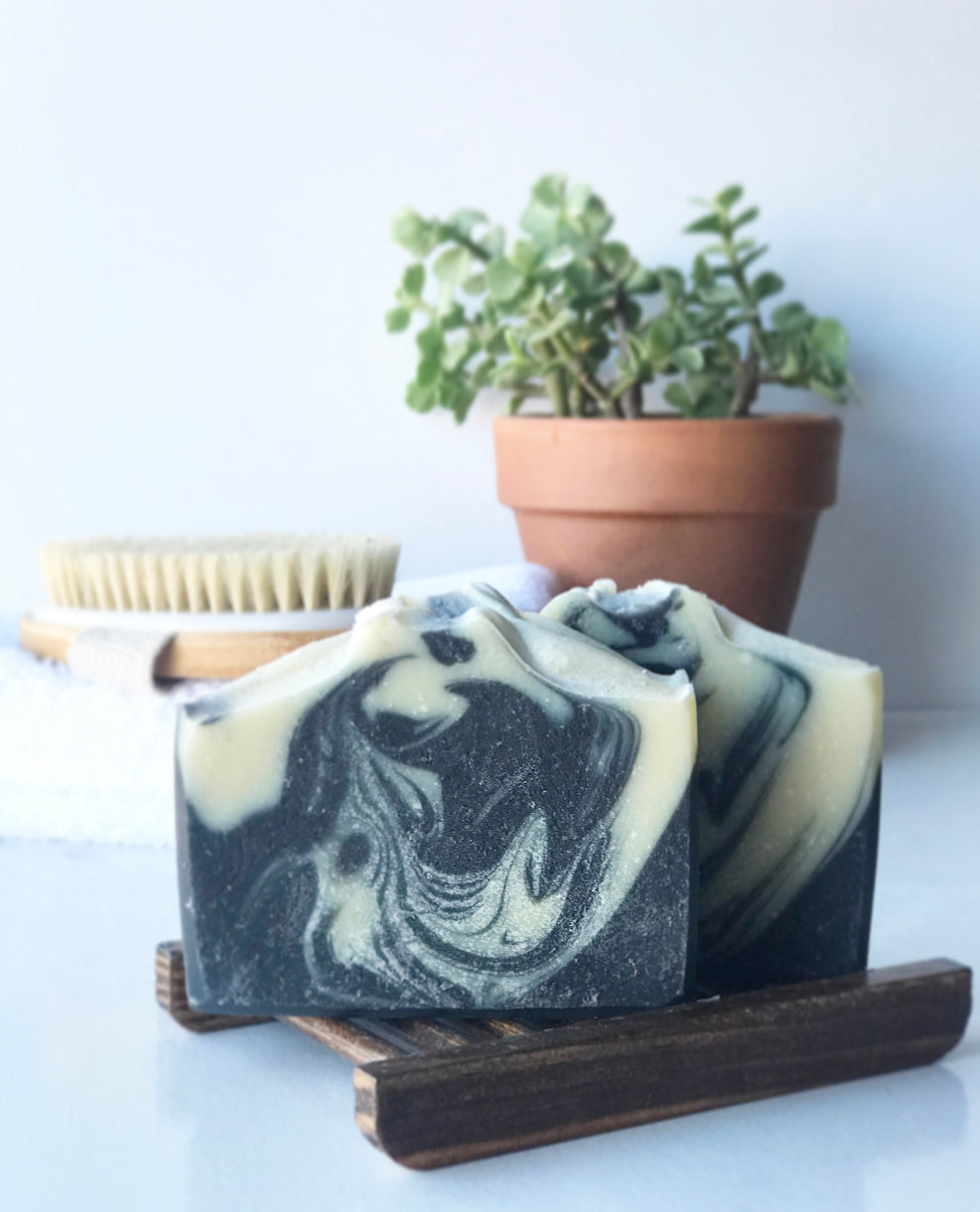 Great soap!
Unfortunately, charcoal dries out my skin so I've given all of my charcoal soaps to my husband & he loves them. The soap in general is an excellent soap & I keep ordering. It lathers very well & smells good. I really love the fact that it's natural ingredients. Keep up the good work 👏
Charcoal goat milk soap awesome!!
I tried the charcoal soap and loved it so much that I sent it as a gift to a friend. She loved it 😍 a lot and plans on ordering more. All my friends can expect products from Eden body care for all upcoming birthdays
Charcoal Tea Tree soap
I love my soap made a nice refreshing shower, lathers nicely!
Love it!
Perfection. Lathers well, silky smooth, and smells just like tea tree oil!
YAY! So glad you love this bar, thank you so much for leaving your review!