Pumpkin Harvest Goat Milk Soap
Regular price
Sale price
$8.00 USD
Unit price
per
Sale
Sold out
Welcome to Pumpkin Harvest Goat Milk Soap! A celebration of autumn's iconic fruit and the timeless memories it evokes. Each bar offers a heartwarming journey back to crisp fall days and cozy evenings.
Pumpkin Patch Memories: The unmistakable scent of ripe pumpkins is the star here, instantly transporting you to those treasured moments of picking the perfect one for carving.

Golden Autumnal Hues: Not just in scent, but the warm colors of the soap reflect the shades of falling leaves, golden sunsets, and pumpkin pies.

Spiced Embrace: Hints of cinnamon, nutmeg, and cloves envelop the pumpkin, echoing the favorite recipes and drinks of the season.

Creamy Caramel Notes: A sweet undertone reminiscent of caramel apples and toffee treats, adding depth and delight.

Whiff of Woodsmoke: That subtle note capturing the essence of evenings by the bonfire or a crackling fireplace, wrapping up the harvest experience.

An All-Encompassing Autumn: This soap isn't just a wash; it's an immersion into the very heart of fall, engaging all your senses in a dance of nostalgia.
For those who cherish the magic of autumn and its bountiful gifts, Pumpkin Harvest: A Timeless Classic is a bath-time tradition waiting to be embraced
__________________________________________________________________________________________
This listing is for 1 bar - Each bar of our handmade soap weighs approximately 4.0oz+ and measures 3.5" x 3" x 1". The soap is cured for 6 to 8 weeks to produce a harder, longer-lasting bar for you. Our goat milk soap is 100% handcrafted, trimmed, and labeled, and is available in very limited stock, making it a truly unique product.

Ingredients: Saponified Olive oil, coconut oil, fresh goat milk, cocoa butter, shea butter, castor oil, sunflower oil, fragrance oil, mica for color, walnut shells for exfoliation, fresh sprinkled ground cinnamon

Our goat milk soap is skin safe and comes wrapped in a paper cigar band, making it easy to gift or use for personal enjoyment. The soap is long-lasting and will provide 2-3 weeks of usage depending on personal lather power and usage.
Indulge in the delicious fragrance and luxurious lather of our Goat Milk Soap today and experience the ultimate in pampering and skincare.
Share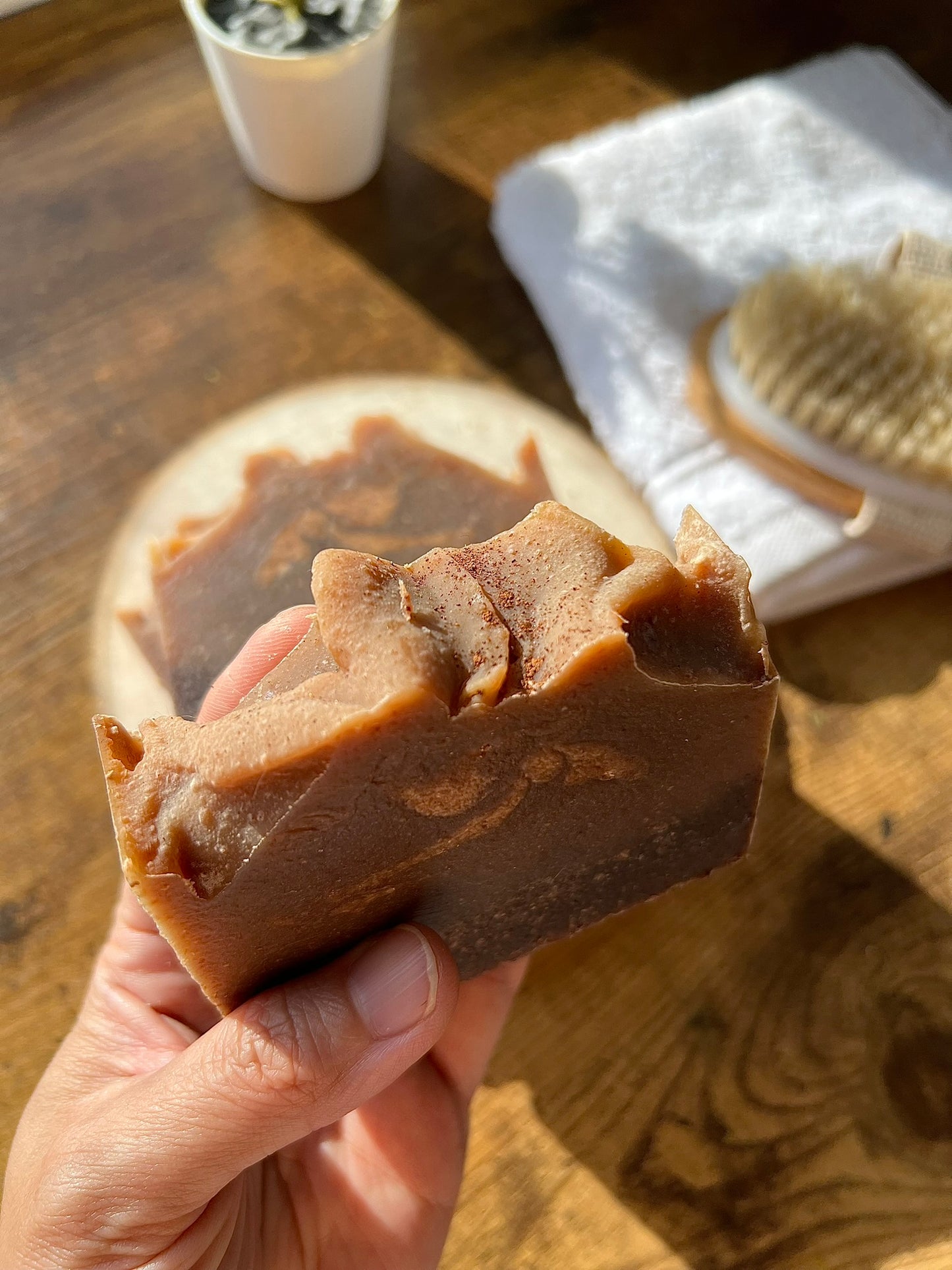 Smells Delicious!
A great soap for the fall season. It smells delicious like pumpkin pie. It has the same moisturizing properties as all other EBC soaps I've tried.