Espresso Scrub Goat Milk Soap
Regular price
Sale price
$8.00 USD
Unit price
per
Sale
Sold out
The ultimate coffee lovers DREAM SOAP! The smell of a morning cuppa Joe in your shower is the new best way to wake you up. 

Is it too good to be true? NO! Coffee is amazing in your skincare routine and here are some reasons why you should start using more coffee in your skincare:

1. Coffee grounds provide the most amazing exfoliation
2. Coffee can temporarily constrict your skin, making your skin appear tighter
3. It has anti-inflammatory effects
4. Coffee is rich in Vitamin B3 to combat skin growths that can lead to cancer
5. Used directly onto the skin, it may decrease the appearance of sun spots, redness and fine lines
6. It may also reduce appearance of the dreaded cellulite on the skin by dilating blood vessels beneath the skin, improving blood flow. 

This bar results in the smoothest skin you've ever felt, try it for yourself today!

Saponified: Olive oil, coconut oil, fresh goat milk, cocoa butter, shea butter, castor oil,  sunflower oil, fragrance oil, organic coffee grounds

Category: Limited quantities
Fragrance used is always skin safe
Dimensions: 3.5" x 3" x 1"
Weight approx 4.5oz +
Listing is for 1 bar of soap, wrapped in a paper cigar band. Boxes are exclusive to retailers
Each bar of soap will last approx. 2-3 weeks depending on personal usage and lather power. Our soaps are cured a minimum of 6 to 8 weeks to produce a harder, longer lasting bar for you!


Share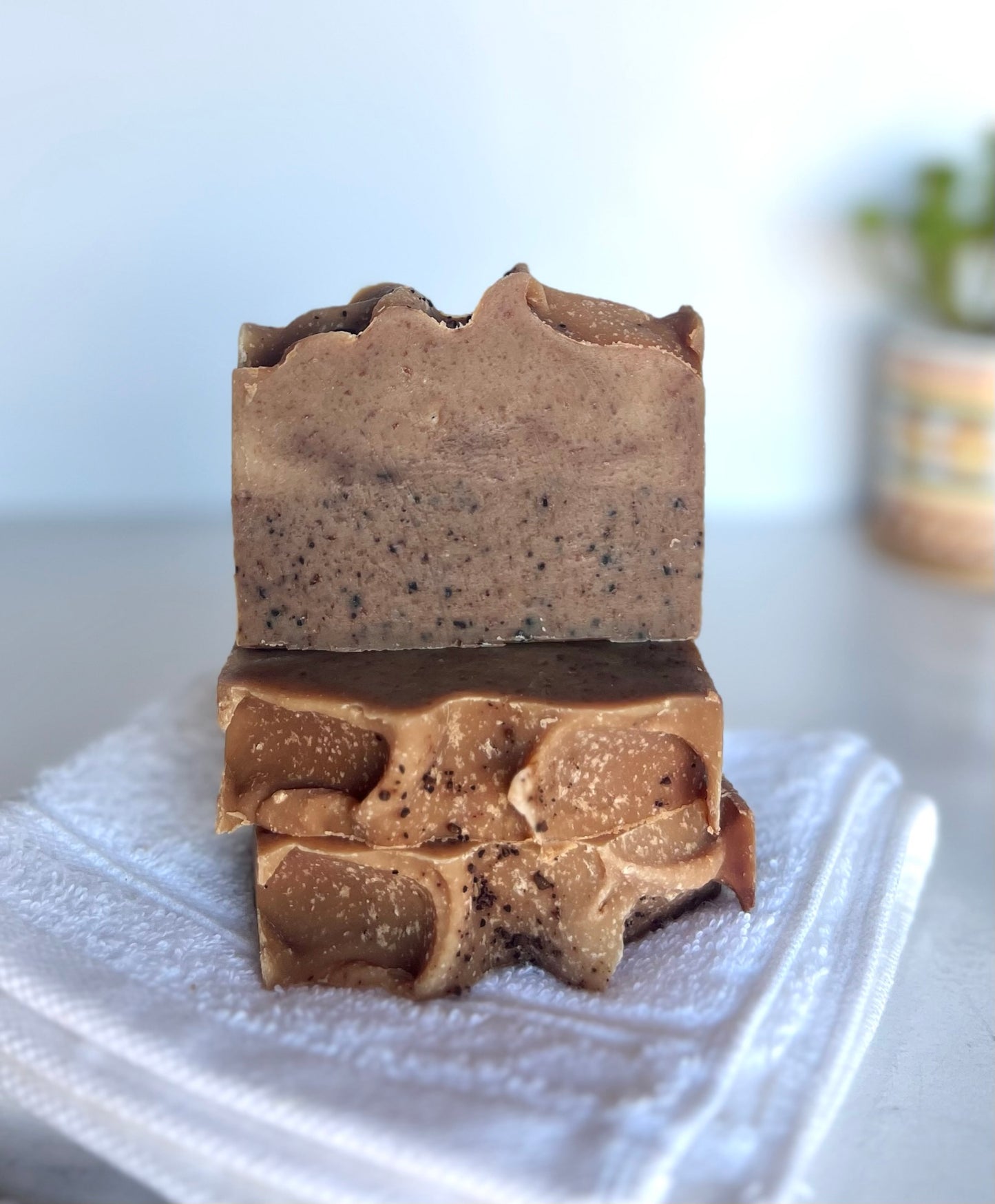 If you like coffee
You will love this soap! Smells delicious, like a lovely latte and is a wonderful exfoliator. Leaves your skin feeling clean, soft and tingling.
Espresso scrub goat milk soap
The espresso scrub goat milk soap is so luxurious! It has the perfect amount of scent and provides a gentle scrub and exceptional moisturizing! This will definitely be my new go to!
Amazing!
This one is definitely not going to last long! I love the smell and the exfoliation the coffee gives you! Leaves my skin sparkly clean!
Thank you so much for showing off your bar of espresso scrub and know you'll enjoy this ☕️
Yum yum yummy!!
The perfect addition to my mornings! Can't get enough of this one!!
We are so glad you enjoy this bar of Espresso Scrub! It's one of our favorites too!
Amazing
I clean my face with this coffee soap and I love it. My face was very well clean. Fresh_tighter_brighter_smooth scent of coffee :coffee:
Thank you so much for this review, we are so glad you're getting all the benefits of the coffee!