Eco-Lips - Natural Long Lasting Lip Balm in an Eco-Friendly Tube Using Nourishing Oils
Regular price
Sale price
$5.00 USD
Unit price
per
Sale
Sold out

Be kind to your lips and be kind to the earth!

Introducing our eco-friendly lip balms that will not only nourish your lips but also reduce your carbon footprint! Our lip balms are hand poured in a sustainable cardboard tube, eliminating the extra plastic packaging.

Our lip balms are free from harmful chemicals and additives, making them a safe and natural option for your daily lip care routine. You can feel confident that our lip balms will keep your lips healthy and moisturized.

Fear of having to reapply over and over again? 

Look no further! We personally live in one of the driest places on earth (by Death Valley) so we know a thing or two about needing moisturization even for the lips. Our specially formulated lip balms are made with natural ingredients that provide long-lasting moisture to keep your lips soft, supple, and healthy all day long.
Our lip balms have been tested and proves to provide deep hydration that penetrates your lips' delicate skin, delivering essential nutrients that lock in moisture and protect against dryness.
These carefully selected ingredients have been chosen for their powerful emollient and humectant properties, creating a protective barrier that prevents moisture loss and keeps your lips hydrated and moisturized for hours on end. Our lip balm is so long-lasting that you'll find yourself reaching for it less often than other plastic lip balm tubes on the market.
Here are some of the benefits of these key ingredients:
Kokum butter and murumuru butter: These ultra-rich butters are deeply moisturizing and help to protect and heal dry, cracked lips.

Beeswax: This natural emollient helps to lock in moisture and provide a protective barrier against harsh environmental conditions.

Avocado oil and sweet almond oil: These oils are rich in vitamins and antioxidants, which help to nourish and repair the delicate skin on your lips.

Argan oil and jojoba oil: These premium lightweight oils absorb quickly and provide intense hydration without feeling greasy or heavy.

Meadowfoam seed oil: This oil is known for its ability to help prevent moisture loss, leaving your lips feeling soft and supple.
Not only will our lip balms leave your lips feeling soft and supple, but you can also feel good about using a product that is gentle on the environment. Go ahead, try our lip balms and let us show you how effective and sustainable natural beauty can be!

Don't let dry, chapped lips ruin your day - try our eco-friendly lip balm today and experience the difference of long-lasting moisture that nourishes and protects your lips!

How to use: 
Simply open up the top, using a finger push the bottom cardboard piece up to reveal the lip balm and your natural warmth of your lips will help the balm glide smoothly on your lips. 

Scents: 
Unscented - Nothing but goodness in a stick, no fragrance, just lip loving goodness

Lemon Kiss - All natural, lemon seed and lemon essential oil added for the perfect lemony fragrance to help keep your lips super soft and supple.

Natural Peppermint Essential Oil - 1st Distilled Peppermint oil gives you a sweeter, spearmint-y fragrance that's perfect for all day lip nourishment.

Vanilla Mint - Slightly scented with vanilla + mint, it's perfect for those wanting just a little something more.

Lavender Lemon - Floral lavender, blended with clean and fresh lemon is perfect for any time of the year.

Ingredients:
Natural beeswax, Murumuru and Kokum butter, blend of Meadowfoam, Jojoba, Argan, Sweet almond oil, lemon seed oil and Avocado oil, flavor oil (for flavored Lip Balms), Vitamin E

Listing is for 1 tube of lip balm
Net weight approx. 0.3oz 



Share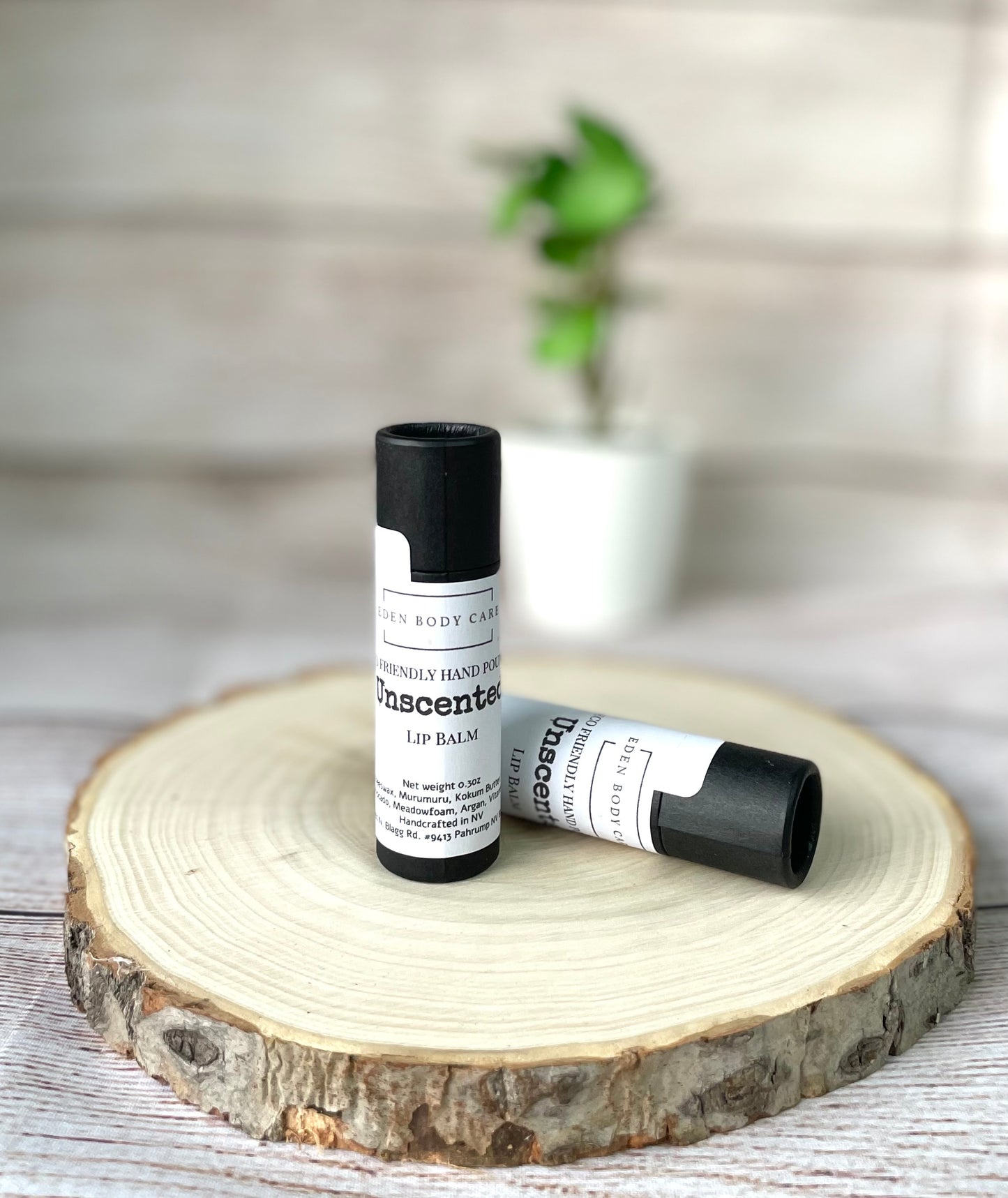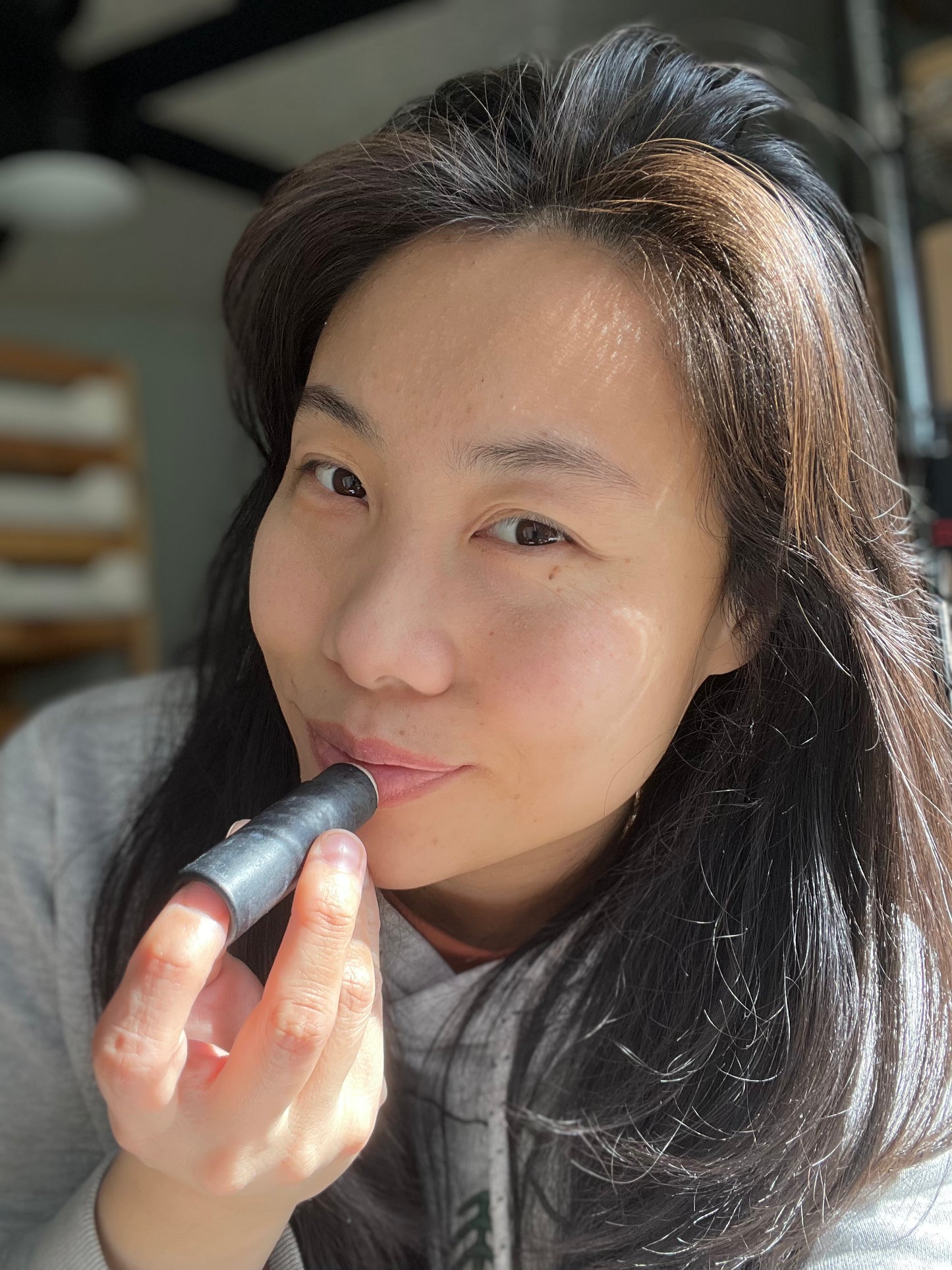 Not sticky
I just received my lip balm and tried it right away. It feels good on my lips and isn't sticky. I ordered the unscented, and it is! I am impressed with their environmentally friendly packaging—even the lip balm has a paper container which is surprisingly sleek, solidly built, and functions very smoothly. Delivery was quick, too. I'll write an updated review after I've used the lip balm for several weeks. I forgot to mention the substantial soap sample Eden Soap included along with a hand-written note that included a photo of their entire family. I love that!♥️
Great lip balm!
I like the packaging and the lip balm has been GREAT on my lips!
Smooth and creamy
The smooth and creamy application of the lip balm is incredible. I prefer the unscented lip balm and it works fantastic it's a lifesaver in the summer heat
Pineapple is so good
Love these lip balms, very moisturizing and keep my lips moist for hours after I apply. No need to keep applying. I have both unscented and pineapple and love the smell of the pineapple. Also great they are in a sturdy environmentally friendly packaging...not plastic. I was not sure about these cardboard tubes but they work great!
Another new favorite
My lips are normally dry and I never put anything on them like chapstick, etc because I don't like the feeling or taste of most of them. But this lip balm makes my lips feel so soft and feels so comfortable. The taste doesn't bother me either which is huge plus. I'm super excited for this small business, your products are amazing.