Chardonnay Rosé Whipped Body Mousse | Whipped Body Butter
Regular price
Sale price
$20.00 USD
Unit price
per
Sale
Sold out
Chardonnay Rosé is the scent for you if you're heading out for the night!
In the mood for a party? This scent is filled with sparkling wine fragrance, crisp white wine, candied apples and a touch of sweet peach. This is the perfect body butter to wear to your next party!

Scent Strength: ⭐⭐⭐⭐

Whipped to perfection, this ultimate luxury body mousse will be your skin's new best friend. Our luxury blend was created by first researching about different noncomedogenic (non pore clogging) butters that are not commonly used on the market today. As a small business, we are able to seek out these hidden gems, blend them with a team of skincare heroes including Jojoba and Argan oil, and feed your skin with this luxurious and unique whipped body butter.

When you feel the cream, the texture is creamy yet airy and light, it is almost mousse like, hence the name. This airy mousse will not melt at the touch of your finger and will give you plenty of time to apply to your skin. As you apply it to your body, it will melt like real butter, absorbing into your skin and will not leave your skin feeling greasy.
Be sure to use a little and spread it on your body as a little really goes a long way with this product! 
Listing is for 1 bottle of body butter
Net contents by volume: 4oz
Ingredients: 
Kokum, butter, Oils of Jojoba, Argan, Avocado, Meadowfoam Seed, Kukui Nut Oil, Murumuru Butter, stearic acid, fragrance oil, vitamin E
Shelf life: 1 year after date of purchase
Check out our FAQs below for more details on usage and storage!

Our handcrafted skincare products are always paraben, phthalate, toxic, cruelty free 



Share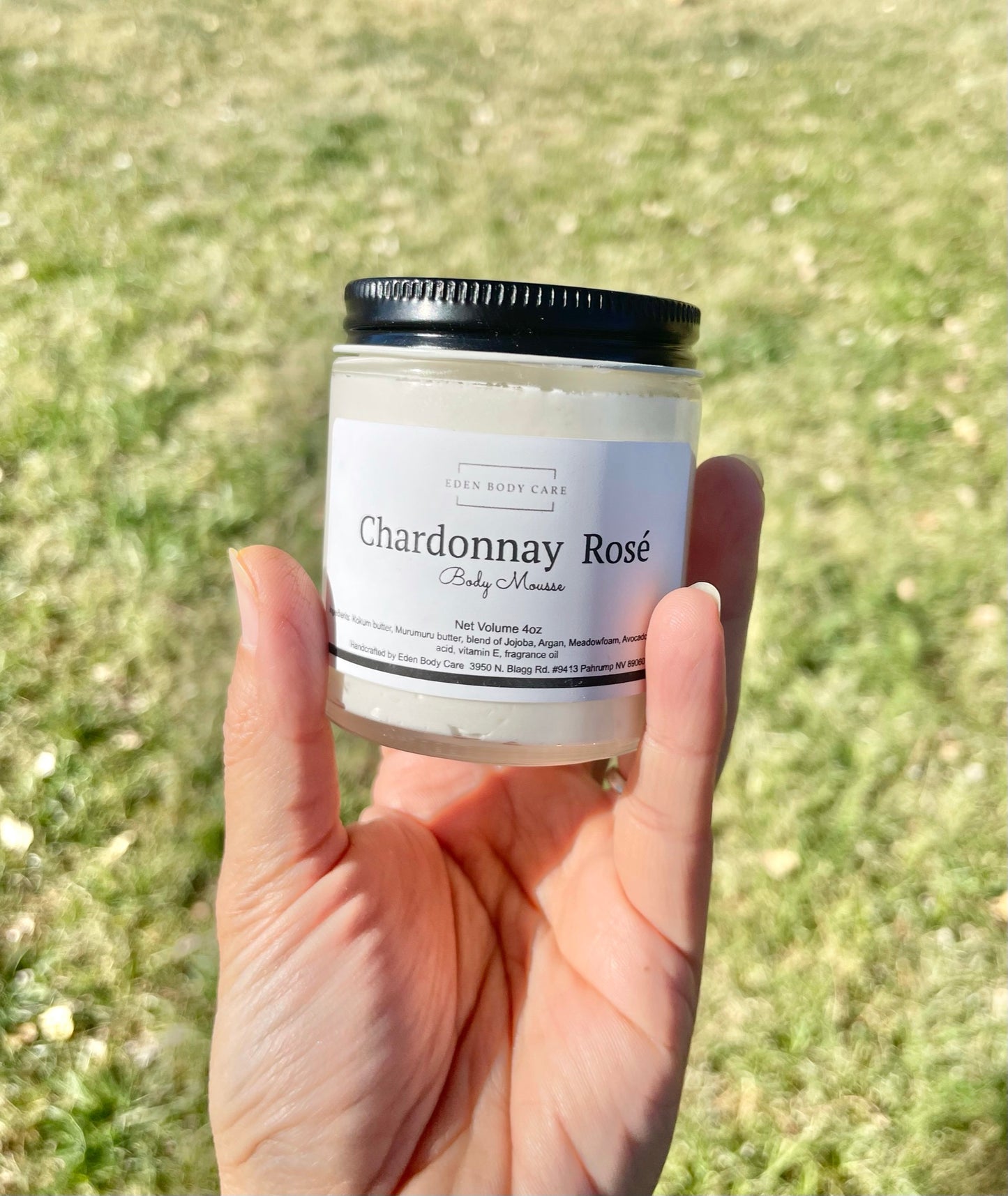 I've given this product as a gift and my friends and family love it.
I'm in heaven
I had ordered my mom some lavender body butter for Mother's Day, and when she got it she was thrilled and raved on and on about it. So I decided to treat myself. I was so excited when this came in the mail, and I immediately fell in love with the scent and texture. The scent is strong enough that you know it's there, but not so overpowering that you end up sneezing or perfuming up the room. The texture is smooth and not at all greasy and rubs right into my skin. My husband is also obsessed with the smell and has been stealing mine. 100% would recommend.
Thank you for an amazing review! We are so glad you're enjoying our body butters and next time we will have to include some extras to keep the husband happy
Seriously so good!
Can't say enough good things about this body mousse! The smell is so nice without being overpowering. The formula is amazing, starts out as a solid and melts right on your fingers and into your skin beautifully. Appears to be greasy right at first and then just soaks right in! This is now part of my morning and evening routine for an all over body moisturizer. My skin has never been better! A new favorite for sure!!!
AH-MAZING
The body butter is on of my best investments to date. It leaves my skin feeling heavenly without the greasy feeling. The smell is just something you will have to experience for yourself as it is indescribable.
During winter season my hands get very ashy and I must say that this body butter mousse was the solution. Not greasy at all and smells AMAZING!
Body Butter FAQs
How to Use
Directions: Our body butters are whipped oils and butters, it is a concentrated product that is not watered down so a little goes a long way.
Using clean hands, scoop a dollop of luxurious cream onto your skin and spread it out onto your skin.
It's best used after a warm shower as it will start to absorb into the skin. You will feel silky smooth and not greasy.

Are there preservatives in the Whipped Body Butters?
Our products are all hand crafted and are not made to store on shelves for years. We do not use any preservatives in our products.

What is the expiration date on the Whipped Body Butters?
Our whipped body butters should be opened within 6 months of purchase and used within the next 6 months.

Body Butter Care
Once opened, the product become exposed to dirt and microorganisms. It is best to use clean hands when applying. Body butters are also sensitive to heat, keep in a cool, dry place.